Your favorite .NET and Java tools
Whatever you're doing with .NET or Java, you have to deal with a lot of tools and libraries. If you need to find new ones, you can consult SharpToolbox.com and JavaToolbox.com. You'll find there more than 2000 tools, libraries and add-ins! The main goal of these sites has always been to help you to quickly identify the tools you need.
One thing that has been missing on SharpToolbox.com and JavaToolbox.com until today is the ability for you to keep track of your favorite tools. This post is here to announce that you can now easily add tools to a personal watch list. This will allow you to find all your tools in one place. You'll then be able to see in a blink whether these tools have been updated. We'll also email you when one of your favorite tools gets updated.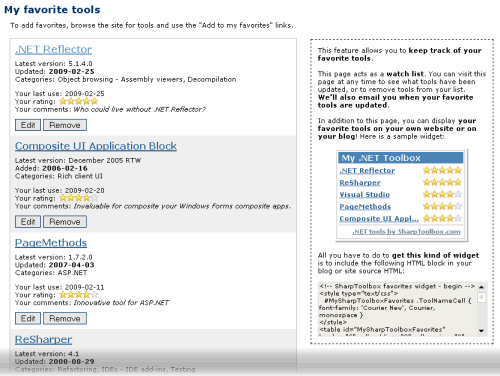 Another thing that this update offers you is the ability to show to your peers which tools you use. This can easily be done by displaying the brand new SharpToolbox and/or JavaToolbox Favorites widget.

In order to be able to manage your favorites, all you have to do is to create a SharpToolbox.com, JavaToolbox.com and Proagora.com account on Proagora.com. After this short process, you can sign in on SharpToolbox.com or JavaToolbox.com and start adding tools to your personal list of favorites.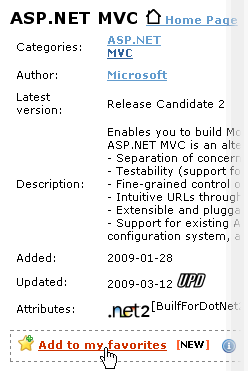 If you want to display your favorites on your blog or your website, you can simply copy and paste the HTML block you'll find on the "My Favorites" page (here is the same page on JavaToolbox.com).
In addition to displaying your favorite tools on your blog or website, you can display them on your Proagora.com profile if you want. You don't automatically have a public profile on Proagora.com when you first create your account, but if you decide to create one, you'll be able to choose whether your favorite .NET and Java tools are displayed on it. Of course, I encourage you to publish your profile :-)
You can see what it all looks like on my own Proagora.com profile.

I hope you'll find these new features useful. As usual, your feedback and suggestions are welcome!
I'd like to thank Tobin Harris for the fruitful discussion about these features and for the great suggestion of providing widgets.