I've been Tagged: Five Things You Might Not Know About Me
I've been tagged by Paul, so here are 5 things to share about me:
1) I was born in Michigan, lived for two years in California, and then spent a decade growing up in England. I attended Duke University and graduated with a degree in Computer Science.
2) During college I also worked for Apple Computer.
3) I joined Microsoft straight out of school. I was recruited by 5 different teams within Microsoft that were each trying to sell me on their group. J Allard (who then ran the IIS team and later went on to create the XBOX and Zune) found out I'm a huge college basketball fan and somehow got Bill Gates to send me a basketball to help convince me to join his team: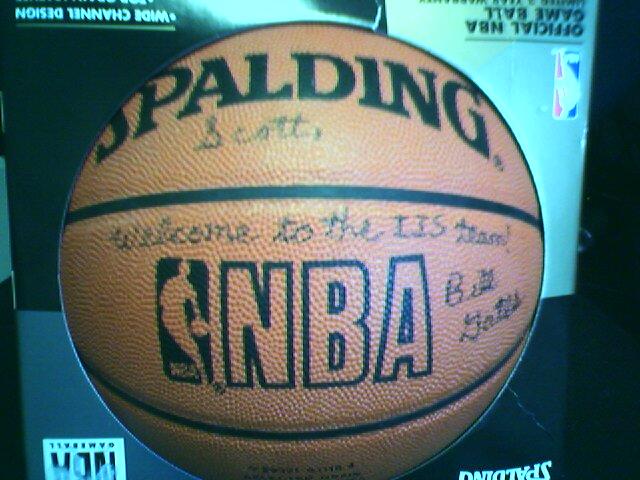 Although the basketball wasn't actually the reason I picked the team, it didn't hurt. ;-)
4) I am a General Manager within the Microsoft Developer Division and manage the development teams that build several Microsoft products/technologies including: the CLR, .NET Compact Framework, ASP.NET, Windows Forms, WPF and WPF/E, IIS, Commerce Server, and the Visual Studio tool support for Web and WPF applications. Although my blog is heavy on ASP.NET content, that is actually only one of the technologies I spend time on.
5) I write all of the blog posts and samples on my blog myself. A lot of people often ask if I have help doing them - but I actually write all of the posts/tutorials entirely myself (hence the reason I usually post between 10pm and 2am at night <g>). I've posted 217 blog posts over the last 12 months and have responded to ~6500 (non-spam) blog comments this year. It has kept me busy, but I also find it a lot of fun.
Have a great New Year's celebration - see you in 2007!
Scott