.NET Developer Software Charity Auction
Many developers in the ISV community have kindly agreed to auction licenses of their software to support the charity Wells for Zoë and its work in Malawi.
Wells for Zoë is an Irish registered Charity set up in 2005 dedicated to the provision of safe drinking water and water storage for irrigation in four remote rural areas of Malawi. The charity's founders cover all administrative overheads. 100% of your donation (bid) will be used to help the people in Malawi.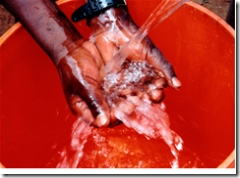 There are many items up for auction - large and small. Here is a great opportunity to pick up some quality software and have a positive impact on many people's lives.
The software up for auction is as follows (each item's retail price is in brackets):
You may also donate to Wells for Zoë even if you don't feel you can bid for any of the items.
Below are some pictures taken earlier this year showing wells installed in Malawi villages.
(*) The auction is for 3 x TestDriven.NET mugs. The winning bidders will receive an MVP Invite for MSDN Premium Subscription with Visual Studio 2005 Team Suite. The invite must be activated by Year End 2006. If you ask any MVP I'm sure they will vouch for the authenticity of these.